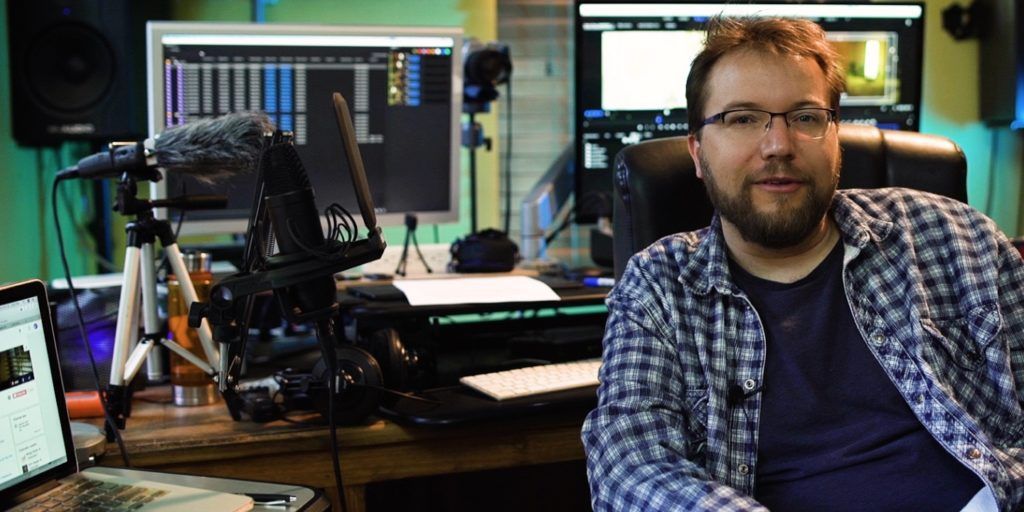 Sven Pape is the owner of the Youtube Channel, This Guy Edits. He is an ACE Award-nominated editor who has cut for some works of James Cameron, Joseph Gordon-Levitt, and Sundance filmmaker; Mark Webber. Sven has taught Film Editing at Columbia College Hollywood and is a regular guest lecturer at the UCLA Film Extension. His Youtube channel, This Guy Edits, which focuses on creative storytelling and editing is a great resource for anyone interested in learning more about the field from an expert!
How did you get started in editing and what inspired you to?
I studied producing at AFI (American Film Institute) in Los Angeles. But I quickly realized that producing is not my thing. I always enjoyed being in the editing room and working with the editor and director. Once I graduated, I sprung for a Mac and Final Cut Pro and I played around with the tutorial that included some footage and started learning.
I just loved cutting. I asked my buddy from film school if I could cut some of his camera tests. He ended up shooting his first feature and introduced me to the director, but they were still thinking of me as a producer and asked me to help with production. Instead, I offered to film and edit behind-the-scenes footage during the filming.
To help promote the film, I also used that for internet streaming from the film set. While it was mostly a live stream, I cut a little of each crew member.
Long story short, James Cameron's younger brother John David called me and offered me a job after seeing some of the webcasts. I ended up working my way from onboard documentarian on the 2001 Titanic expedition, to Night Assistant Editor, to becoming one of three editors on Jim's 3D-Imax Ghosts of the Abyss.
What editors do you admire the most and why?
There are so many! Thelma Schoonmaker, ACE, is ruthless in making the most of the footage. I recently watched Wolf of Wall Street again, and that film is just an insane edit fest. Eddie Hamilton, ACE, cut Top Gun Maverick and it is perfectly paced. Whiplash by Tom Cross, ACE, has great rhythmic editing. Mad Max Fury Road, cut by Margaret Sixel, ACE, is one of the best-edited films in decades.
What were some of the mistakes you made at the beginning of your career that you learned from?
The biggest mistake would be to get paralyzed by failure and rejection. In the beginning, you don't understand that getting better requires learning from your mistakes. So when you put out your work, and it's not connecting with the audience in a way you thought it would, you just want to crawl into a hole and feel miserable. It took me many years to realize that that's the process of improvement. So, next time, try to fail harder.
What are the key elements and critical steps in delivering a successful project?
A good story told well is the most critical aspect of a successful project. Style, aesthetics, and even technical perfection are secondary to that. A beautifully shot film with a mediocre story will fall flat. Good storytelling includes great editing just as much as great performances. One technical aspect that is mission-critical, is good and clean audio. If your audio is bad it can destroy a film. We can forgive a bad-looking film if the story is engaging, but if it's hard to make out the words or the sound is utterly annoying, it can kill a film.
What is the number one tip you would have for someone getting started in the video editing space?
Edit a lot. It takes years to get a solid sense of good pacing and only comes with experience. Also, the only way you can know if you do love editing is to cut a lot to find out if you can handle the grind. 85% of editing consists of looking at a monitor all day and working your brain at a level that can be very daunting for someone who is not used to it.
Why is Final Cut Pro your NLE of choice?
I edit faster without managing technical things. I don't have to worry about where I want my video and audio tracks to go. Final Cut Pro has no tracks. I find it to be the system that gets and keeps me in a flow state the most. There is less clicking around compared to other NLEs.
How has Monogram made a difference to your editing?
Even though Final Cut Pro is already a next-level NLE with an optimized interface, there is room for improvement. With Monogram, I can stack a whole array of plug-ins and apply them with a single push of a button. I like the scrolling capability of the shuttle better. While editing, certain functions are repetitive and require me to drag and click multiple times. So I customized the most used ones onto the console; for example, I set up a particular zoom function for still images, and I use the dials to change the positioning of images or cropping.
What's your favorite Monogram feature?
Final Cut Pro has a bug that only applies if you have set your timeline to live on one monitor and everything else in a second. The problem is that when I often want to change a clip in the timeline, Final Cut may still think I'm working on a clip in the browser (depending on what I did before). It creates a lot of annoying situations where I want to make a change to one clip (in the timeline), and it applies it to another in the browser. I programmed a button on Monogram that ensures that I'm actively working in the timeline, and I always press it before making any adjustments to a clip. It's a lifesaver!
Make sure to visit Sven's website and check out his editing portfolio of feature films, documentaries, and TV shows. Also, don't forget to visit his Youtube Channel, This Guy Edits, for great lessons on the best editing techniques! Here's an example of one of Sven's narrated Youtube videos explaining some of the editing practices of the 2019 movie, Uncut Gems.