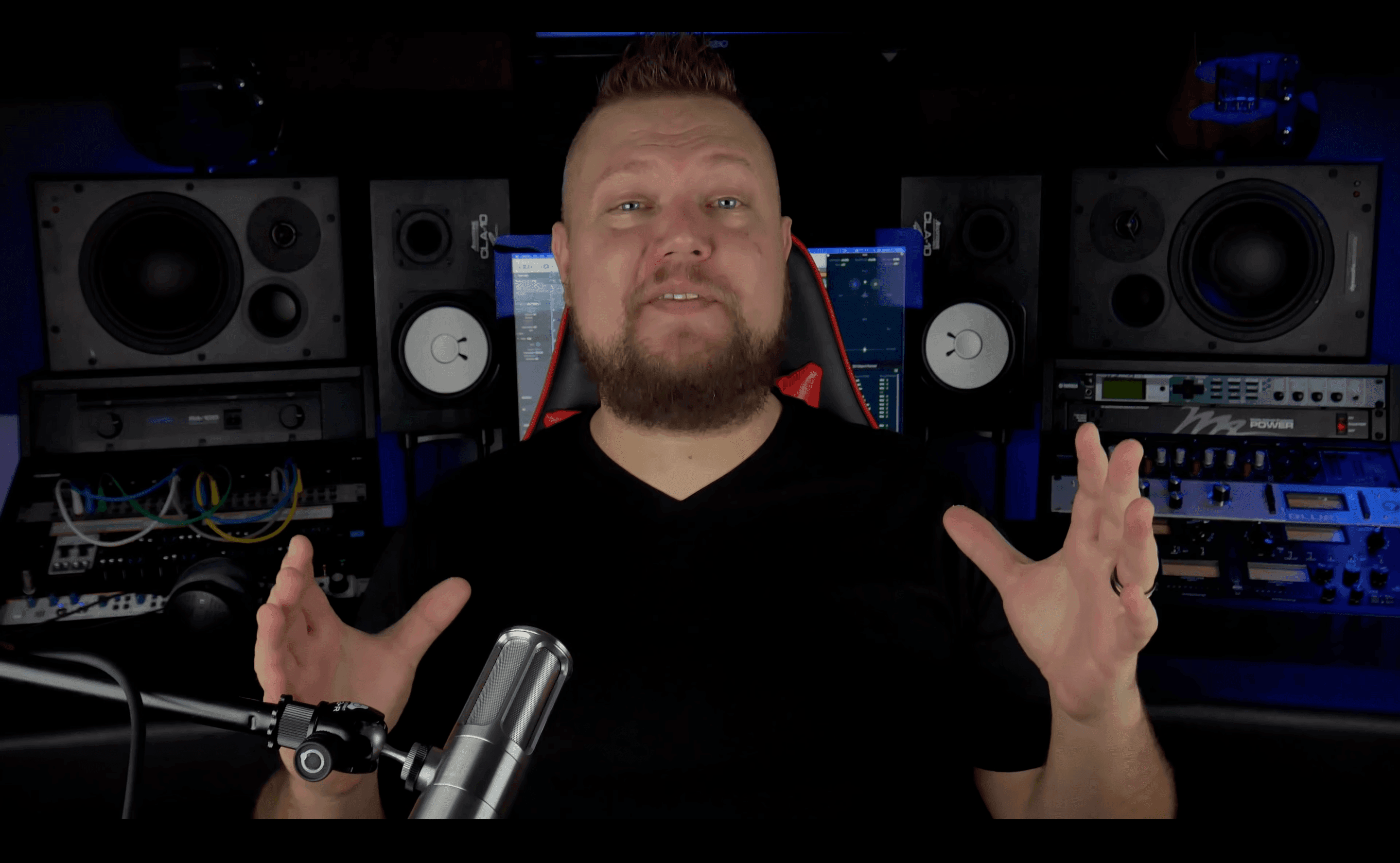 Josh Carney is a recording engineer, musician, composer, producer, and educator with two decades of experience in the field. He is the owner of Carney Media Group, an audio and video production company based in Central Florida. Josh also owns and operates the MusicTechHelpGuy YouTube channel, which offers free music and audio production lessons and courses, mainly using Logic Pro, as well as gear and tech reviews.
How did your journey in audio production start and what keeps it exciting for you today?
Like most music and audio producers, I started off as a musician. I learned piano as a kid, by ear, plunking around on my grandmother's piano. Then I joined the middle school band as a Tuba player, and I was active in music all through grade school. Around age 12, my father taught me the basics of how to play guitar, and later that year I discovered Rock 'n' Roll and Metallica. I became obsessed with playing guitar and improving my skills by learning to play their songs, especially the 80s albums. My first experience with mixing, and recording my own music happened when I was 16/17 and I became obsessed with writing music and MIDI sequencing. What keeps me excited about working in audio is constantly finding new and better ways to do my work. I love discovering and adapting new technologies into my workflow!
Did the Tech and Music evolve together or were you a Music Guy who became a Music Tech Guy?
In college, I received my BA in Music and my MM in Music Composition, and studied composition with well-known band and orchestral composers David Gillingham and Jose-Luis Maurtua. That's when I started getting into audio production and recording. I struggled making money as a musician, so I shifted my focus in grad school to audio. This turned out to be the best decision I ever made for my career, as I now have a technical audio engineer working background, with the creative knowledge of a musician and composer. I did a lot of recording work in grad school, which I loved and I've been doing recording and music production work ever since, along with some teaching, and of course I started the YouTube channel!
Tell us more about the Help in MTHG and the approach you took in developing the courses you offer on your website?
In addition to being a musician and producer, I have also been a college educator since I was 24. What I really love about online education is that the people who watch my videos or watch my online courses, they are there because they really want to be there. My approach is pretty simple, I like to teach in a way so that everyone can clearly understand what is going on. I try not to assume too much, but I also try not to assume too little. It seems like such a simple concept, but over the years, I've had many instructors who just "talk over your head", and don't know how to break things down into manageable "chunks" of information.
What was your first impression of Monogram Creative Console when you received it last September?
I absolutely loved it, and still love it! I use it just about every day. It lives front and center on my desk permanently. I've never used another MIDI controller that has the kind of customizable knobs and faders that the Monogram CC has. I can adapt it for anything - I have custom setups for Logic Pro, Ableton Live, and editing in Screenflow.
Over time has the console been a compliment to your workflow or has your workflow evolved because of the console?
My workflow often involves a lot of sound design and sound shaping. I often have the composition portion of songs recorded in advance, and I'm just focusing on the timbre and tone. This is especially common when I do mixing and production work for my clients. For this kind of work, I don't need a keyboard in front of me at all times -- just the knobs and faders will do. With a couple exceptions, I'm not a fan of controllers that are purpose-built for a specific workflow. This forces you to use the controller in one way. It's the exact opposite with the Monogram CC, which is why I love it so much! I can adapt it for any workflow I want. If I'm doing Logic Pro editing, all the knobs and faders are CCs, and I can program them as CC values that don't conflict with my keyboard controllers, so I can use it alongside my other controllers easily. If I'm doing video editing in Screenflow I'll save my most used editing shortcuts to the buttons, and I can scrub through the timeline with the orbiter jog wheel. The Monogram CC has adapted to MY workflow, rather than me having to adapt to the controller, which is the CC's biggest strength in my opinion.
Do you have tips or advice for anyone starting in the audio production space?
If you're just now getting into audio and music production in 2022, don't go to college and pay a lot for it. Fortunately in 2022 there are many free and paid online educational resources that rival even a college education; and that's coming from someone that has taught and developed college courses for over a decade.
Learn as much as you can online about audio production, music production, DAWs and in-the-box mixing, and don't forget about media production and video production. The industry is slowly merging from audio, music, and video being separate production fields, into more of a "media production" field.
Learning to edit video and operate a camera at a basic level was one of the best things I ever did for my career, because it has allowed me to market myself, build a website and business, and have a social media presence. Studio jobs are also shrinking drastically so I would recommend befriending a small studio owner if you can, and ask if they need any help around the studio to help out and learn. Learn to set up microphones and learn recording techniques. Learn to set up preamps and analog gear. Experience what it's like to work in a purpose-built acoustic space. Then take those experiences and build your own business. Almost like an internship or apprenticeship. Sure, you're not getting paid, but you are getting something in return -- knowledge and experience! Learning how to work in a pro studio environment is one of the few skills you cannot learn online.
Check out the video above to learn more about how Josh works with Monogram in Logic Pro.